The main purpose of Eira Teamware ecosystem project was to develop customizable enterprise grade collaborative system for SMEs with clean, service based, strongly secured and powerful architecture including advanced security. Eira is also open platform for additional add-on custom apps development. Main functional areas were documents life-cycle management, workflow management of events and tasks, relations of subjects and register of resources (technical parameters of real world assets and human capacities too) with geospatial support in 2D&3D inside one integrated system. Originally main targeted business segments where assets, properties, land, infrastructure and facilities management and servicing with process support over whole company. The goal was to integrate all operational processes from design, sales, production, maintenance, up-to servicing and customer support in seamless ecosystem and dramatically lower the number of disintegrated applications which companies use. Eira is reducing data islands, lowers operational costs by 1/5 and external risky integrations on minimum. Eira architecture has those main layers:
CORE (organization & team structure and records category security, administration, notifications, status engines, context management, search with full-text support, filtering, reporting, customizable team dashboards and records navigators, discussions, history, master data management, exports etc.)
APPlication domains such as: Subjects, Documents, Management, Resources, Geospatial
Custom applications on-demand
Micro-applications and portal
Integrated ecosystem for people cooperation in real world.
Eira is a solution for the demanding requirements of asset management, flexible teamwork and effective operational control. Helping companies succeed in a competitive environments with a high quality trusted organic information base, clear joins and for focused communication. Eira isn't just another software provider with a sole app. Our integrated solution is ideal for process, facility & asset management, operations and technical support. Do you work with documents, task and information about technical resources + people and are you small businesses? Be ahead and make your job done in ease thx Eira.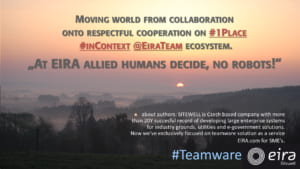 Are you constantly updating information and getting lost in stacks of documents and records? Do you need to communicate efficiently with your colleagues, share work and be alerted to the essentials tailored events for you and happening around you?
Eira, as an assistant to the daily operational management of companies, will allow you to concentrate on key business areas and brings
significant savings when working with documents, information on assets, events&tasks workflow and the relationships of people and companies. Not only that, it's much more affordable than competitive solutions, which cover only a partial area.
View a detailed overview of business information in one place!
Effective operation and asset management is the primary goal of commercial entities. For these purposes, Eira contains mainly application
solutions for integrated work flow management, resources usage tuning, trusted documents management, relationsships subjects management and geospatial intelligence, all of which bring a unique and attractive solution for a wide range of customers.
EIRA is a powerful tool for managing daily operational activities and meets all of your business requirements. A unique feature of Eira ecosystem is the perfect overview of infrastructure assets it offers to manufacturing, utility and industrial companies, administrators of large building sites and technology units.
Eira is ideal for identifying specific details about rooms, facilities, locations or their related entities and documents. By linking them to the context in which they appear in your Internet search engine, you can immediately access all the necessary information.
Choose with which working groups / teams you want to share your information and whom you will grant to edit/approve the data. Eira is ready for collaboration with the approval and quality control work completely minimised. To start ASAP you can use predefined team solution templates.
Through the integration of 2D design documentation (CAD) maps (GIS) and 3D models (BIM), Solution Eira delivers a
unique competitive advantage. It allows users to get a quick overview of the fixed and movable managed property in context and in a single web environment.
Eira is a perfect teamwork hub – collaborative ecosystem. Combine on your Eira portal key apps that will grant access to all systems of the company to show just what you need. Centrally managed information on any property in a network context allows you to make quick and fully informed decisions arising from relevant data.
In context, secured an by rules.